Last month we discussed the best trees for privacy and color for winter in Wisconsin. While trees (especially the various types of evergreens) are great for these specific purposes, sometimes you may want a different and unique element for your winter garden. Turns out, there are a few options for plants that will add interest to your winter landscaping needs. Below are the three most popular plants to bring color and uniqueness to your landscape in the Brookfield area during the cold of Wisconsin's winters (and not one of them is an evergreen!).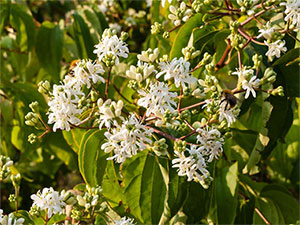 Seven-Son Flower (Heptacodium miconioides) is recognized by glossy leaves that appear and remain beautiful all season long. Flowers develop late in the season and are followed by small fruits that are surrounded by bright red or magenta calyx (protection for the flower and often acts as support for the petals when in bloom) which produces a beautiful late fall presentation. The light brown, exfoliating bark adds another dimension to the flowers' winter interest. Seven-Son flower grows best in zones 5 – 9 and can grow up to 20 feet in height. They have been known to attract hummingbirds in warmer months as well!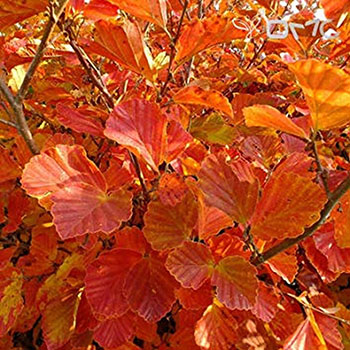 Vernal Witch Hazel (Hamamelis vernalis) is known to be an early-flowering shrub. The red-orange flowers have strap shaped petals that will curl inward on cooler days (this helps to protect the flower from freezing). The oval-shaped leaves then turn a golden yellow or orange in the fall and have been known to last throughout the winter. Vernal Witchhazel grows best in zones 4 to 8 and can grow up to 10 feet high. This plant is also especially hearty and can tolerate deer, erosion and clay soil.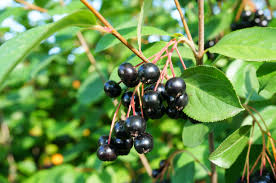 Black Chokeberry (Aronia melanocarpa) – aka 'Autumn Magic' – produces white flower bundles in spring and dark green leaves throughout the summer. Black Chokeberries provide excellent fall color that ranges from bright orange to reddish-purple. The lovely fruit clusters also last well into January. These berries are also good to eat as they contain almost 3 times more antioxidants than blueberries! The Black Chokeberry does well in zones 3 to 8 and can grow up to 6 feet in height.
Depending on your needs and where you are planning your winter garden there may be other cold weather options for you, these are just the top 3 most popular. Contact us today to learn of more options or to start planning for your spring landscaping needs!