We understand that each project is different. With homes and properties all being purchased at different times, landscaping status could fall anywhere on the spectrum. Dan's Tree Service Inc. brings 25 years of experience to handle your tree care and landscaping projects to your satisfaction. Our professionals are fully licensed and insured in each of our landscaping service areas. We service Brookfield, Elm Grove, Pewaukee, Delafield, New Berlin, Waukesha, and Hales Corners.
At Dan's Tree Service Inc., we care about what you want to accomplish. We take the trees on your property and the landscape seriously. Below are samples of projects we've documented to give you an idea towards how we've handled particular projects.
We encourage you to look through the projects below if you are interested in hiring a tree or landscaping contractor. In the margins below, we've discussed details of our projects to bring clarity to you. We are confident in our knowledge, ability, and the expertise when it comes to tree trimming, tree removal, and landscaping services. We work diligently to complete whatever project you have in mind. Please browse through our projects and contact us if you have any questions!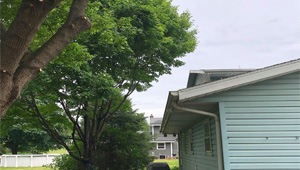 New Berlin, WI First Time Customer During initial walk through, I determined the multiple different species of trees and determined…