Some trees are unhealthy trees that cannot be helped, even with tree trimming or other maintenance. Because of this, it may be necessary explore tree removal services. With that in mind, it is important to act quickly. Dead and dying trees are as hazardous as they are unsightly. The tree removal process can be very tricky and dangerous. Most home and business owners opt for professional help. For those cases, Dan's Tree Service, Inc. is here to help!
Dan's Tree Service, Inc. has been serving residential and commercial properties for over 25 years! A good amount of work has been done in the greater Waukesha area, including Brookfield, New Berlin, and West Allis. Dan's Tree Service, Inc. has properly removed all types of trees. Known for our meticulous work and friendly customer service, we make the tree removal process quick and hassle-free for the property owner.
When is Tree Removal Necessary?
Preserving tress is always a better option. They are an important part of the property's ecosystem and provide shade and shelter for animals. To know if tree removal is necessary, lookout for these warning signs:
The tree is dying (or already dead) due to disease or insect, such as the Emerald Ash Borer
Wind, lightning, or storms have damaged the tree beyond repair
The tree has been uprooted or otherwise fallen down
The tree has grown in an inappropriate place and cannot be worked around
What Tree Removal Services are Offered?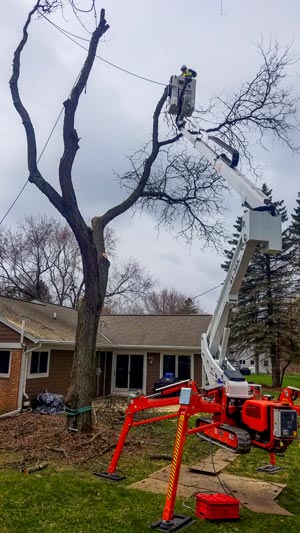 Basic Removal: No matter the size or point of access for the tree, we have the means to remove it for you. We start the process by carefully lowering limbs to the ground. Next, we remove the trunk. The final step and most effective is to eradicate the stump by grinding it down.
Brush Chipping: Brush from removed trees can be turned into wood chips. Wood chips may come in handy for mulching and other landscaping projects.
Emergency Storm Assistance: If storms have left branches, limbs, or even whole trees strewn about your property, we will clean them up and dispose of them for you. Because we know that Mother Nature waits for no one, we're available 24/7, around the clock. We will also assess the damage to the remaining tree to determine if removal is needed, or if trimming can help maintain the tree's health.
Lot Clearing: When developing a property, there are some trees that can't be worked around or simply don't fit in the plans. Our comprehensive lot clearing services will get your property construction-ready in no time.
What is the Tree Removal Process?
As with all of our services, tree removal by Dan's Tree Service, Inc. is done in a very planned out and intentional way, with steps including:
A comprehensive assessment of your property and problem trees
A thorough plan is developed to meet your specific requests
We handle all paperwork, including coordination with power companies
The work site is left in better condition than before we arrived
Top Notch Tree Removal Services
When tree removal is the only option available to you, let the skilled arborists of Dan's Tree Service, Inc. do the dirty work. We have an A+ rating from the Better Business Bureau of WI are four-time winners of the Angie's List Super Service Award. These accolades prove you can count on us for all things trees. Plus, Dan's Tree Service, Inc. uses only the latest processes. We use the latest technology, and equipment to ensure the tree removal process is safe, effective, and worry-free for the property owner. To discuss your tree issues and receive a free estimate, contact us today by using our online form or calling 262-695-1696.