Spruce Up Your Property Today
Tree trimming is like mowing the lawn: you won't notice how much of a difference it makes for your landscape until it is done. Unlike mowing the lawn, though, taking care of your trees requires significant time, knowledge, energy, and equipment—and that's where we come in! For over 25 years, Dan's Tree Service, Inc. has been the trusted partner of home and business owners in the greater Waukesha area. When it comes to the health and aesthetics of your trees, we've got your back.
Why Trim My Trees?
Tree maintenance is not optional. By consistently monitoring and pruning your trees, you'll save yourself from headaches later on. Why deal with small dead branches and sticks laying all over your lawn, when you can have Dan's Tree Service Inc. take care of all the tree trimming and dead branches before they start falling all over your yard. Save yourself the time and energy and leave the work to us. Obligation aside, tree trimming offers a variety of benefits, including:
Tree Health: Removing a tree's unneeded deadwood frees up its energy to produce new growth. On the flip side, leaving the deadwood could lead to rotting or disease.
Accident Prevention: We've all seen tree limbs hanging precariously by a thread—it's an accident waiting to happen. Be proactive about preventing disaster with routine pruning.
Landscaping Aesthetics: As the owner of a home or business, you have creative freedom to design your landscape as you wish. Tree pruning can impact sun and shade levels, and ensure that walkways stay clear.
Pest Prevention: Pruning makes trees healthier, which means they can better resist dreaded pests.
Storm Protection: Trees can make for excellent shields against the elements. Pruning makes the remaining limbs stronger, which means you'll be better protected against wind and storm damage.

Is it Time for a Trim?
Don't wait for your trees to become unruly or cause an accident. To know when it's time to call in the tree trimming professionals, look for these common signs:
Trees are growing close to or touching power lines
Trees are brushing against buildings
You notice loosely hanging branches or dead spots
It has been at least three years since your last tree trimming
You want an immediate upgrade on the look of your property
How is the Trimming Done?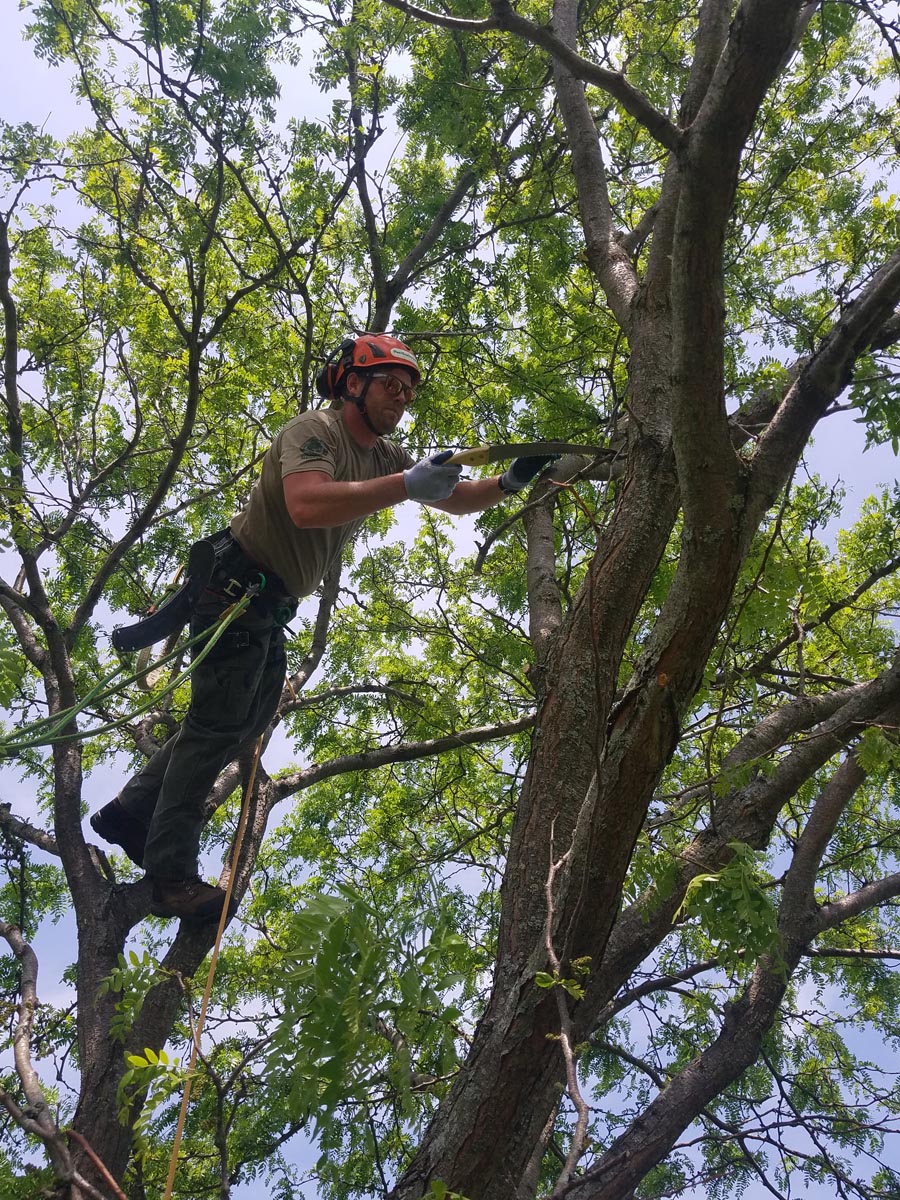 Dan's Tree Service, Inc. follows a methodical process for every tree we trim, with steps including:
Comprehensive Inspection: Our experienced crew visits your property to examine your trees and get an idea of what trimming will be necessary (if removal is necessary, we can handle that too).
Crown Pruning: All diseased or dead branches are removed, including water sprouts and sucker growth. An emphasis is put on dangerous and unsightly branches, including those that are low-hanging or rubbing up against objects. The crown cleaning process results in more space for light and air, two elements that make for a healthy tree.
Crown Restoration: If a tree has been damaged by weather, vandalism, or poor pruning, we will help restore it back to optimal health and appearance.
Routine Maintenance: Together, we will come up with a routine pruning plan that is right for your particular tree species and aesthetic desires.
Care for Your Property: Most bucket trucks weigh 40,000 pounds but our aerial lift is only of 5,700 pounds. This ensures that it leaves a very small footprint and reduces or eliminates damage to your lawn or any part of your landscaping.
Professional Tree Trimming is a Call Away
If it's time to trim your trees, Dan's Tree Service, Inc. are ready to help. We have an A+ rating from the Better Business Bureau of WI, and have won the Angie's List Super Service Award four times, so you can rest assured that your property is in expert hands. Plus, Dan's Tree Service, Inc. utilizes the latest technology and equipment to ensure to ensure precision in every job we do. To learn more about how we can help you, or to request your free quote, contact us today by using our online form or calling 262-695-1696.