About two thirds of homeowners say that they would hire a professional tree service to help them care for their trees, shrubs, and other woody plants. While there are many options in Waukesha County, it is important to choose the right tree care expert that has the right experience and equipment. Most people aren't aware of the equipment and tools it takes to accomplish the desired outcome safely and efficiently. Below are just a few of the tools that Dan's Tree Service uses to provide proper tree care services for your yard.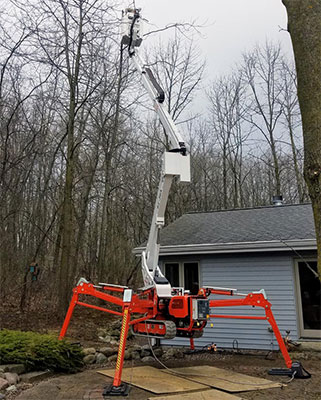 Spider Lift: This incredibly versatile piece of machinery is ideal for those jobs that require some extra height. Our spider lift easily maneuvers into the exact position you need them and then extend to 70 feet to reach the highest points of the tree. The spider lift will also self stabilize if on uneven ground to provide an extra level of safety. Another great thing about this piece of machinery is that it is able to fit through a 35 inch gate, which makes it easy to maneuver into smaller spaces and fenced in backyards.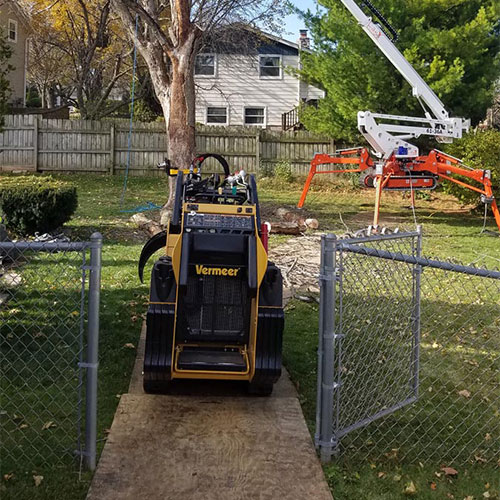 Mini Skid Steer: This piece of equipment is comprised of a small, rigid-frame. It is an engine-powered machine and has lift arms that can attach to a wide variety of labor-saving tools or attachments, which makes it an ideal piece of equipment for landscaping or tree trimming projects. Mini skid steers are also able to fit through a 35 inch gate. This makes the mini skid steer an invaluable piece of machinery when working in residential areas that have smaller spaces or openings. Due to the clamp attachment on the front, we are able to effortlessly move full branches and small trees. Using the mini skid steer for these tedious projects also saves time, energy and money.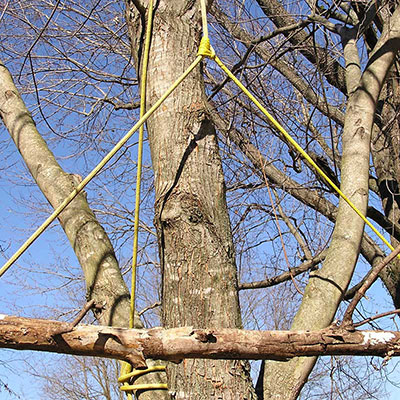 Tree Rope Rigging: Tree rigging is the art of cutting down tree sections or whole trees using ropes, blocks and pulleys. The ropes allow for the large, heavy, awkward shaped pieces to be safely lowered to the ground with less risk of damage to property or injury. This allows us to remove trees or heavily trim a tree that is in small areas while removing the risk of damage to power lines, buildings, and the ground or landscaping below the tree.
When you entrust Dan's Tree Service to do your tree care project in the Brookfield area, you can be sure that the team will be using the best equipment for the job and will leave your yard better than they found it. We also strive to keep it looking neat throughout the process. Our team also performs a thorough cleanup upon completion and a final appraisal with you to ensure that we meet or exceed your expectations. Contact the tree care experts at Dan's Tree Service for your tree trimming or tree removal needs!