There are many reasons that tree trimming is an integral part of your tree's health and for best results it should be performed by a professional. Below we answer a few frequently asked questions when it comes to tree care based on our many years of experience.
Why is tree trimming important? Tree trimming improves the overall health of your trees and can also help to detect any diseases before they have a chance to advance to a critical state. Proper tree trimming can also help to give your trees and other plants optimal sunlight, and even add value to your property.
When is the best time to trim your tree? While any time of year can be a good time to trim your trees, it all depends on the tree species and what type of trimming is needed. Though it is especially important to have your tree trimmed if you notice damage. Damage can include hanging limbs, dead limbs, or cracks in any limbs. If you notice any damage, it is best to have it taken care of before it can cause further damage to your property or loved ones. With the variety of weather we receive here in the New Berlin area, any accumulation of snow or ice during the winter or heavy winds and rain throughout the year could cause damaged limbs to fall off.
What are the most popular tree trimming methods?
Crown Thinning: Thinning the crown involves trimming specific live branches to reduce the density of a tree. Crown thinning can also reduce stress on limbs from gravity, wind, ice & snow.
Crown Raising: Crown raising lifts the bottom edge of limbs up to clear room for traffic, buildings or just a better view. This should be performed over time to reduce the weakening of the tree.
Crown Reduction: Helps strengthen & encourage new tree growth. Crown reduction consists of removing a tree branch back to a growing lateral branch.
Crown Cleaning: The purpose of crown cleaning is to remove dead, diseased and broken branches. Crown cleaning can be performed at any time and should be included as a part of crown thinning, raising and reduction.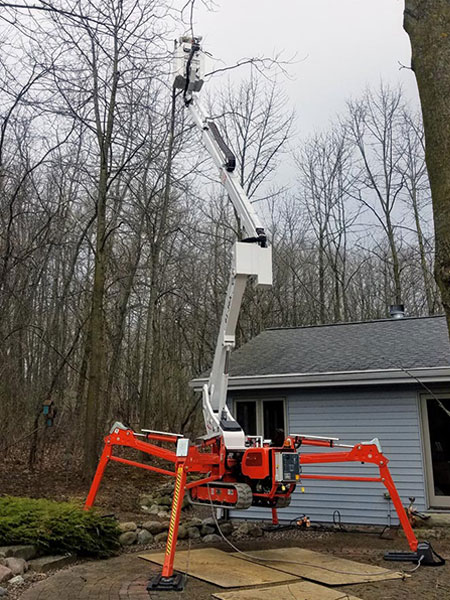 When should I have a tree removed? The best reason to have a tree removed is if it is dead. There are other reasons for tree removal, however, we highly recommend exploring other options such as tree trimming before removing a healthy tree. Besides being dead, some of the other reasons to remove a tree may include:
Disease
Damage
Becoming invasive
Excessive leaning toward your home, business, driveway, etc.
Blocks your view, obstructs driveway, street, etc.
Planned landscape renovations
Why is hiring a professional tree trimmer important? Beyond the obvious that tree trimming can be dangerous, some other great reasons include:
Saving Your Tree: Professional tree trimmers can detect any issues your tree may be having, such as disease or bug infestation.
Fruit Trees: If you have fruit trees it is especially important to hire a professional tree trimmer, as proper trimming encourages growth, and can enhance the fruit production of your tree.
Property Safety & Protection: Your yard could be host to a number of dangers, including underground piping for gas, water, or sewage. There is a higher chance that if you try to remove the tree yourself, you could potentially damage any of the pipes, your home or injure yourself.
Safely Remove Limbs: Professional tree trimmers can safely remove dead or diseased limbs ensuring that these limbs won't cause further harm in the future during storms or high winds. Professionals also have the proper equipment to reach higher limbs and then remove them from your property.
Permits & Legalities: Professionals are up to date on any laws and regulations that come with tree trimming in the New Berlin and Brookfield area and will be sure to follow any rules that may apply to your trees and property.
These are just a few of the many questions we get asked regularly. For any other questions you may have, please contact our team at Dan's Tree Service today!