Grass can become overgrown on even the most impeccable of landscapes. Keeping unruly plants and trees in check requires year-round upkeep. At Dan's Tree Service, Inc., we understand that, as a business owner, you have better things to do than constantly tending to your commercial property, which is why we offer ongoing commercial landscape maintenance. Together, we'll decide on a maintenance plan that is right for your business, so you can look out of the window at your beautifully manicured property without breaking a sweat.
Dan's Tree Service, Inc. is the trusted partner of property owners across greater Waukesha. For more than 25 years, we have maintained landscapes of various sizes and varieties with careful craftsmanship and second-to-none customer service.
What Properties are Serviced?
Whether urban or rural, wherever there is a landscape that needs maintaining, Dan's Tree Service, Inc. is ready to help. The most common types of properties we service include:
Condominiums
Gated communities
Office complexes
Apartment complexes
Processing plants
Gas stations
Motels and hotels
Golf clubs
Manufacturing buildings
Gyms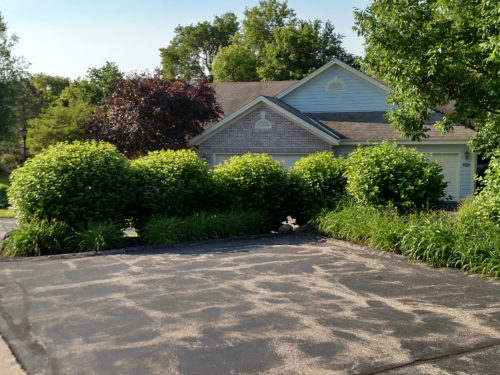 BEFORE
Schools
Churches
Banks
Government properties
Parking lots
Retail stores
Malls
Community centers
Convention centers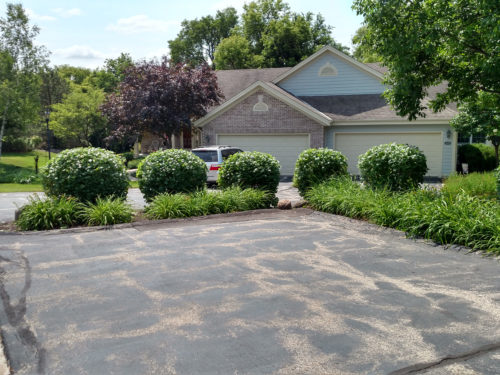 AFTER
Which Maintenance Services are Available?
Dan's Tree Service, Inc. will keep your property in pristine shape with our high-quality landscape maintenance services, including:
Tree Trimming: By giving your trees a haircut, we will increase their natural beauty and overall health.
Tree Removal: If one of your trees is dying, dead, or simply in the way, we'll remove it so meticulously that you'll never know it was there.
Lawn Mowing: As soon as your grass grows beyond your liking, we will be there to give it a mow. We guarantee tidy mowing lines and will also edge sidewalks and other objects to give it the professional look that you want.
Bush Trimming: If you have bushes or specialty grasses that need manicuring, we can help maintain their shape and encourage healthy growth.
Leaf Removal: Spring and fall are the seasons for fallen leaves, and when your property needs a clean-up, we'll be on the job.
Pesticide and Weed Control: Through hand weeding and careful pesticide application, we will help keep the weeds on your property under control.
Snow Removal: When winter strikes and your property is buried in snow, we'll come dig you out. Plus, with our quality equipment and years of experience, we know what it takes to keep snow piles manageable and easy on the eyes.
Ice Control: Avoid slipping hazards with our consistent ice salting and removal services on your sidewalks and stairs.
Maintain Your Landscape with Dan's Tree Service, Inc.
Keeping up with your landscape could be a full-time job in itself, but who has time for that? Let Dan's Tree Service, Inc. take the work off of your plate with our top-notch landscape maintenance services. Our commitment to excellence has helped us win the Angie's List Super Service Award four times, and we currently hold an A+ rating from the Better Business Bureau of WI. Because we use only the latest, greatest equipment and technology in our work, your landscape will soon be humming like a well-oiled machine. To learn more about how we can help with your commercial property upkeep and receive your no-obligation quote, contact us today by using our online form or calling (262) 695-1696.